You can love it or you can hate it, but dropshipping is a business model to make money on the Internet.
I have already said it.
Now, how to do it well so that it is profitable, what mistakes are being made by those who say it is not?
If you want to know the whole truth about this method of monetization for e-commerce and how to get started, keep reading because I have for you the most complete guide on dropshipping of 2020.
What is dropshipping?
It is a type of retail sale where the retailer does not keep the goods in its inventory, but takes and passes the order to the wholesaler, who then dispatches the goods directly to the final customer.
Here an even simpler definition:
Dropshipping is a business model with which you can have an online store without inventory.
The term is not new, but it is true that dropshipping became more famous in 2006 when the "boom" of Aliexpress and Chinese e-commerce stores took place.
It was at this time that some entrepreneurs launched themselves and discovered the "retail sale" or margin between wholesale and retail price, and without the need to have products in stock. Aliexpress and its catalog of products with such low prices was the perfect ally for all of them.
But, watch out, just because the concept and definition are easy does not mean that making money with this method is easy. I will explain it below.
How dropshipment works: the business scheme
The process is very simple:
A user enters e-commerce (intermediary), buys a product, and pays for it.
The intermediary receives payment and sends the order details to the supplier (wholesaler), who prepares and sends it directly to the buyer.
The wholesaler bills the intermediary for the price, which is less than the price the intermediary has sold for.
The intermediary earns a commission, which is the difference between the two prices.
Let's understand it better with an example:
A customer buys STEAMPUNK items for 100 dollars in your store.
You pay 50 dollars to the wholesaler for the STEAMPUNK products.
The wholesaler sends the product to the buyer and you earn the difference (100-50= 50 dollars).
➡ What does the retailer or intermediary get?
A commission for each sale without the need to manage inventory or stocks. No need to have a physical warehouse to store your products.
➡ And what does the wholesaler get?
This is a common question.
The wholesaler, if you notice, is making sales through a secondary sales network that is giving visibility to their products. He is increasing sales and scaling up his business.
Sometimes they are even internationalizing without investing a single euro.
It's the biggest beneficiary.
➡ And what does the user who buys get?
The theory would be that the user should have access to products that are not easily accessible if you are not a retailer or company.
In addition, they have access to extra value that you are bringing to them as an intermediary, either through tutorials, advice or whatever your value proposition is.
Is it the same as affiliate marketing?
No, but it is common to confuse both models.
Pre-approval
In affiliate marketing, you sell a company's products or services in exchange for a fixed commission. We saw this when I told you how to make money with Amazon Affiliates.
The key here is that you need to be a partner or, in other words, be accepted as an affiliate by the company itself; something that does not happen in dropshipping.
Where the sale takes place and who sets the sales price
In affiliate marketing, the sales prices are set by the company and, in fact, what the affiliate does is to send the lead to the company's website so that the sale can take place there.
The way to redirect the traffic is through a traced URL, with which the clicks and sales that finally occur can be measured in order to calculate the affiliate's commissions.
Many companies like Booking have their own affiliate system, and others use affiliate platforms like Awin, Clickbank or Tradedoubler.
On the other hand, in drop shipping, you can establish the price at which you want to sell the product and the sale takes place within your page (or from platforms such as eBay or Amazon, depending on the business model you have chosen).
You can even sell through Etsy. You wouldn't be the first, nor would you be the last.
Both systems are very valid for making money online.
Advantages of dropshipping
Anyone can have an opinion about this system, but the truth is that no one can say that dropshipping does not have its advantages.
Some of the benefits of using this system to make money online are the following:
1. Startup with no or minimal investment
You can even sell without having your own e-commerce set up, for example, through a Facebook page and the Shopify Lite Plan, although this is not the most commonly used option.
You would only pay $9 per month.
But well, basically, if you're going to create your dropshipping store, you need:
See this tools i recommend to use it within your dropshipping store
[orbital_cluster categories="378″ order="DESC" postperpage="6″]
You can easily and economically create your own online store with WooCommerce, Prestashop or Shopify, but you will need time to learn how to import the products and design it in a way that maximizes your sales. You can also pay a professional, but that would increase the initial investment.
In addition, you will have to assess how you will attract traffic to your store. The fastest and cheapest option is Facebook Ads, but you can also use social networks such as Instagram or more expensive resources that require more training, such as Google Ads.
2. Minimum maintenance costs
These depend on your way of attracting traffic to your website and the type of store you have decided to set up. If you have created a store in Shopify, you will have to pay a monthly fee, but currently you have 14 days trial, more than enough time to test if this system is profitable for you.
What you will need is time, both to find the product you are going to sell and to set up your store and manage the orders when they arrive.
3. No location or inventory or stock
Since the wholesaler is in charge of storing the products, you do not need a warehouse or an established physical store because you will not have product stock. You can manage your orders from anywhere with an Internet connection and telephone coverage to serve your potential customers.
And nothing else.
It's the good thing about making money online, that you can do your work from anywhere.
4. No packaging and shipping costs
The wholesaler takes care of it, you forget.
However, it is not superfluous to agree on the type of product labeling. It can be only the retailer's data (yours) or the data of both: wholesaler and retailer (manufacturer and distributor).
The logical thing to do is to use the first option and make sure that the third non-exposed case does not happen: that only the wholesaler's data appear.
5. Varied product catalog
You can even work with several suppliers for one dropshipping store.
There are many Chinese manufacturers that bring together products from almost every category, but you can also find American or European suppliers with relative ease. However, inventories or units in stock are not usually as large as in the case of Chinese manufacturers.
6. Highly scalable dropshipping business
You can start by focusing on a star product and then expand to sell its complementary products. For example, you can start by selling a thermal coffee cup and then add personalized cups, coasters, milk frothers, coffee mills, T-shirts with fun messages for coffee lovers and even accessories for coffee makers.
And from there, derive to a thematic store with a clear and specific target: coffee lovers for example.
You can even combine this with affiliate marketing and later expand to sell coffee machines, which is a more expensive product and can leave you with higher commissions or directly, an all-in-one store with products classified by sections: Clothing, Home Decor … and so on.
7. Minimal risk and easy exit
Not doing well and not generating any sales?
No, it's okay. Maybe you didn't choose the product well or didn't take the right strategy.
As you have not made a large investment, there is no exit barrier.
If it doesn't work: you should try something else, sell STEAMPUNK products for example 🙂
Disadvantages of Dropshipping
So why deceive ourselves? It is not the perfect system and it also has its disadvantages, which may even outweigh the benefits themselves. The ones that should be pointed out are the following:
1. Lower margins than other business models
You have to take special care with this point and establish a sales price to make the business profitable for you.
In general, getting a 20-30% net profit on the original price of the product is the minimum you should look for.
Many dropshippers recommend a sale price, and some even force you to set a minimum price below which you cannot sell. This is relatively positive because it ensures that other intermediaries cannot sell at a lower price than you.
Competing on price is not the best option when it comes to dropshipping because the profit margin is already reduced, so the key is to give an added value to your product.
💡 For example, you can stand out through support, after-sales service or personalized advice. Create manuals, make tutorial videos and differentiate yourself because that is going to be the added value that buyers find only in your store.
If you want to sell through platforms like Amazon, margins are reduced even further and it can become a business that is not even profitable for you.
It is a very common mistake not to take into account the commissions and expenses derived from selling on Amazon and other platforms when setting prices.
It happens this way in e-commerce in general, so imagine with dropshipping.
2. Easy entry of competitors: high competition
The reduced price of Chinese-made products, and the lack of initial investment needed to sell them, make dropshipping suitable for anyone who is starting to make money on the Internet.
It is a disadvantage, but we return to the same thing as before: analyze your competition, offer added value and stand out from the rest. Be clear about your contribution to the sector and work on it.
3. Less control: divided e-Fulfillment
The customer's shopping experience is a process in which many variables come into play related to the preparation of the order, shipping, selection of the best transport company, delivery, and return. A set that has the sole objective of maximizing the satisfaction of the final customer.
In the case of dropshipping, since the purchase begins, this process is divided between two: the intermediary and the wholesaler.
Therefore, achieving that satisfaction becomes more complicated, since it depends not only on your strategy and knowledge but also on the manufacturing company. In short, you have less control over the supply chain.
4. Requires time for customer service
This is so.
Any method of monetization requires time, whether it is analysis, implementation or strategy.
When you have a dropshipping store, you only have to worry about collecting the purchase data and transferring it to the wholesaler to take care of the packaging and shipping.
But, be aware that any problem that arises during the purchase, during shipping or even if there is a return, is at your own expense. At least, it is your responsibility because you are the seller.
Another thing is already to take care of the costs because this will already depend on the conditions agreed with the supplier.
Customer service for a store monetized with this system is very time-consuming.
It is advisable to create an efficient ticketing system that allows you to manage orders and incidents in the fastest way. It would even be advisable to have a telephone support line and an online chat.
5. The difficulty of finding a good provider
Despite the numerous directories and lists of providers that exist on the Internet, let me be clear: until you try it, you don't know how it works.
The Asian market is full of drop shippers, but not all of them meet the deadline, have good shipping costs or a good return policy.
In the case of local drop shippers, it is difficult to find a company that offers competitive prices to which you can add your commission and make sales.
Finding a good supplier is going to take a long time and may even require an investment to test its effectiveness in packaging and shipping. The sooner you take it on, the less you will despair afterward.
6. Management of massive orders
If you do it well, you can make a lot of sales per day and, if you have to manage them all, it can become a problem, especially if you have to make it compatible with other activities. In any case, with the plugins that exist today, this should not be considered a disadvantage.
It's a matter of getting organized and, in case of massive growth, having other people available to help you manage the orders.
7. Total responsibility towards the client
You are solely responsible for the product in front of the customer and that sometimes becomes a problem.
If the product arrives defective, if the shipment does not take place in the expected time or if any problem arises, the buyer will come to you.
This is why it is very important to choose a good supplier that works without problems and to have an impeccable support ticket management system.
How to do dropshipping in 2020: A step-by-step guide
And now, after having understood the concept and having evaluated the benefits and disadvantages, what do you think if I tell you how to find the best products and suppliers, how to create your store and how to start selling with this system?
Let's get to it.
1. Choice of niche or product: the Product Research
This is the most difficult part of the search for an efficient supplier. In general, a good product for dropshipping should:
Have a low price, but sell yourself at a high price in your country.
Have free shipping or minimal charges.
Have sufficient stock units. Less than 100, it is not worth it.
To have good social reviews. Must have good buyer's valuation. You can search for publications or ads on Facebook and see interactions and comments.
Have sales. This is essential. Go to Aliexpress or the chosen dropshipping platform and check if that product is selling well. Also, check if it is an interesting product for your country.
In addition, it's a good idea to check Google Trends to see the trend in searches for that product taking into account the seasonality.
☠️ Watch out for products that are sold only in certain months of the year (products focused on Halloween, Valentine's Day, or related to the summer heat, for example).
You are interested in a product that sells all year round. If you want to learn more about how to choose the perfect niche click here.
📌 Popular products in dropshipping
On platforms like Aliexpress, you can take a look at the highlights and you are sure to find an infinite number of products to sell in your dropshipping store. In just a first glance, I have seen some that I had already seen in Instagram Ads:
If others are already selling them, they may have already calculated their profitability and social success. Check for competition and see if it is viable to enter into competition with those who are already there.
It is always better to look for a "less seen" product and with little competition, but if you already have notions about online sales you can choose to spy on the competition and enter the market offering that extra value you have in mind.
A very good tool to create ads and see what is working and what is not Facebook and Instagram ads can do it.
In addition, you can get ideas if you are going to use Facebook Ads or another method of getting paid traffic because here you will see the popular ads that are working best on the network.
Some dropshipping products that I have found through this method, and that are available on Aliexpress, are the following:
1. LED Hair Remover
It costs between $10.00 and $12.66 with a free shipping to the United States ( Delivered by 24 of December ).
Aliexpress page: https://www.aliexpress.com/item/4000748118834.html?spm=2114.12057483.0.0.97507db3NSGZkV
Example of a dropshipping store where it is sold:https://shopee.co.id/
Well, this is just one of the possible products you can think of selling in your store… Of course, you don't have to take the same product :). In my blog articles, you will find out more product ideas to sell.
You can also use other tools to discover trends, such as Thieve, Ecomhunt, or Dropship Spy, among others.
And apart from all this, you can also look for products in applications such as Oberlo, Spocket, SaleHoo, Alibaba, or Modalyst, but you would already be including an extra intermediary in the chain and that means less benefit for you.
📌 Customized products: Print on Demand (POD)
Personalized T-shirts, mugs, caps, bracelets, badges, plates, purses, cell phone accessories, and even watches of your own brand.
Custom products are an e-commerce model in themselves, but you can also adapt it to your dropshipping store by printing on demand.
The operation is simple: once you sell a unit of the product, you transfer the order to the supplier who offers that product and who, in addition, is responsible for printing the custom design (an added service that, hey, is great to offer something differential).
There may be a lot of competition selling coffee cups, but few offer that personalized cup with a phrase.
Think about it.
Here the key is to be different and offers an added value.
Using drop shipping to sell customized products is a good idea because if, in addition, it is a local supplier; you can take control of packaging and shipping. Come on, you can turn to dropship into standard e-commerce with retail and wholesale in between.
You can reach agreements with printers, with manufacturers of plates, manufacturers of photo frames… The industrial area of your city can be a good source of inspiration and the best center where to start talking with possible suppliers.
You can also search for print on demand products in the Shopify App Store. Just click on Categories – Find products – Print on demand.
Some of the most popular are Printful, Printify, T-Pop, or Shirtee, among others.
📌 Some topics to inspire you
Besides touring Aliexpress and spying on Facebook Ads focused on selling dropshipping products, I want to leave you with some ideas that are working very well in the United States and other countries, and that you can reuse for your country.
If you want to make thematic e-commerce, you will surely be inspired:
Professions: products for a specific professional area, such as nurses or doctors, now that it is very fashionable. Also IT, bricklayers, electricians, or teachers.
Patriotic products: in all countries, there are people who love their country, and products with national flags or patriotic messages are their weakness. And the best thing for you is that there is an infinite number of products to which you can place a flag or a patriotic message to attract their attention.
Religion: this is an area where you can also sell related products, such as bracelets, caps, T-shirts, or similar. Give the idea a twist: e-commerce for Christians.
2. Choosing the best dropshipping provider
Your wholesale supplier must have sufficient stock, good packaging, a good return policy, and, above all, must be quick to ship.
Without one of these features, your success will be hobbled and you'll have to improvise on the go.
In addition, when choosing it is essential that you take into account that in the supply chain you can find:
Manufacturers: they manufacture the product and do not sell it directly to the public, but they do sell it to wholesalers and retailers.
Wholesalers: they buy from the manufacturer wholesale, so they get better prices. Then they sell directly to retailers or to the general public (usually not, but there are some cases that do).
Retailers: they sell directly to the public and have a profit margin that comes from the difference in price between what the wholesaler charges and what the buyer pays.
In the case of a drop shipment, to be really profitable, you must find a manufacturer or wholesaler and discard the retailers.
Remember that the drop shipper is usually invisible to the end consumer unless otherwise stated in the triangulation contract, which often does not even exist.
Make sure that the name of your store appears on the delivery to the customer and not that of the manufacturer or wholesaler. Or, at least, that both appear.
📌 Beware of fake dropshippers
To find the best dropshippers and ensure maximum profit you should work directly with manufacturers or wholesalers.
Unfortunately, identifying them is not always easy. You can try this custom service to find Winning Product & Ad Strategy.
⛔ You can cross them off the list if:
They ask for monthly commissions.
They sell to the public directly.
They charge you a fee per order.
They ask for a minimum unit purchase.
However, when you find a supplier with products that you might be interested in selling, I recommend that you place an order and see for yourself how they handle it before you go ahead and set up your store. In the end, this is the only way to see the result of what will be the shopping experience of your future buyers.
Remember that the most important thing is that the shipment is fast or on time and that it does not generate problems or extra costs in customs if it is an import.
In addition, it is advisable to make a return to see how they manage it and in what time frame.
Having said that, which seemed important to me, finding a supplier that meets all the requirements is not an easy task. You can do it through a Google search, and even filtering to find providers from different countries, or you can search for them like this:
📌 Local or national suppliers: the most cost-effective option
Moving around your city and reaching agreements with companies in your area is the most profitable way to make money with dropshipping.
Some companies don't even have their own dropshipping system or are not digitized and are so convinced by the idea when you tell them, that you are the first one to work with them.
BINGO.
Example: machinery sales companies, hardware stores, and even printers or metalworkers.
Make sure it's a product that leaves you a good commission and, most importantly, sells well online.
Keep in mind that if you have a direct relationship with the manufacturer, you will obtain a higher percentage of profits on your sale because the moment a wholesaler or platform is added, your margin will be lower.
📌 Aliexpress
Aliexpress is the queen bee when it comes to working with dropshipping platforms from China because it sells products from numerous Chinese manufacturers at really affordable prices.
In the case of the USA, it has become the second-largest e-commerce company in terms of turnover, behind the Giant Amazon.
You can easily import their products via WordPress dropshipping plugin or through applications for Alidropship.
It all depends on the eCommerce platform you have chosen to create your store, but in general, you will have no problem importing if you use Shopify, Magento, WooCommerce, or Prestashop.
📌 Other dropshipping platforms
Working with platforms like Aliexpress and Amazon is great, but what if your product runs out of stock?
Having a plan B (or an alternative dropshipper) is a winning move and some of the following may be good alternative dropshipping platforms to Aliexpress:
DHGate: it's a little more expensive than Aliexpress, but it has practically the same catalog. If, for example, a product costs $5 at Aliexpress, at DHGate it can cost $6 or $7. The good thing about it is that it is compatible with the ShopMaster plugin for WooCommerce.
DealExtreme: It is already quite well known in countries like Spain, but has a smaller catalog than Aliexpress and DHGate. It is more specialized in electronic products, so keep an eye on it if you are going to work with products from this sector. You can import products with the Wooshark dropshipping plugin.
BangGood: This is another big one with products of very varied prices. It has API, a download center, and the option to import CSV files. You can also use the Setup Bangood Dropshipping Store plugin for WooCommerce or the Wooshark dropshipping, which also works for AliExpress, eBay and others.
Gearbest: You can import products with apps like Importify or Dropshipmate in Shopify.
BigBuy: Spanish origin and with quite a presence when it comes to dropshipping in Europe. They offer product catalog and creation of online store in all its versions (developed by BigBuy or by client)
📌 Dropshipping supplier directories
If you do a quick Google search, you'll see how much "scam" revolves around the world of dropshipping providers.
Do you see all the options that offer you a list of providers in exchange for payment?
Discard all of them.
The best way to find a good drop shipper is to contact the supplier directly and negotiate the conditions, but if you want to go fast, the most reliable options are those that include applications such as Spocket.
Now, which one is better, or what makes them different?
About Spocket
You work with suppliers from all over the world and the average quality of their products is often higher than the products sold on AliExpress, which is very positive for you as a seller and ultimately responsible for what you sell.
This is because, they say, Spocket takes interviews with every drop shipper listed in their directory, as well as testing of the products they sell.
In addition, 60% of its suppliers are of American or European origin, which makes shipments faster. It is newer than Oberlo and in a short time has become the best alternative for doing Dropshipping.
Register today with Spocket and get your products shipped from 1 – 4 days in the USA or Europe.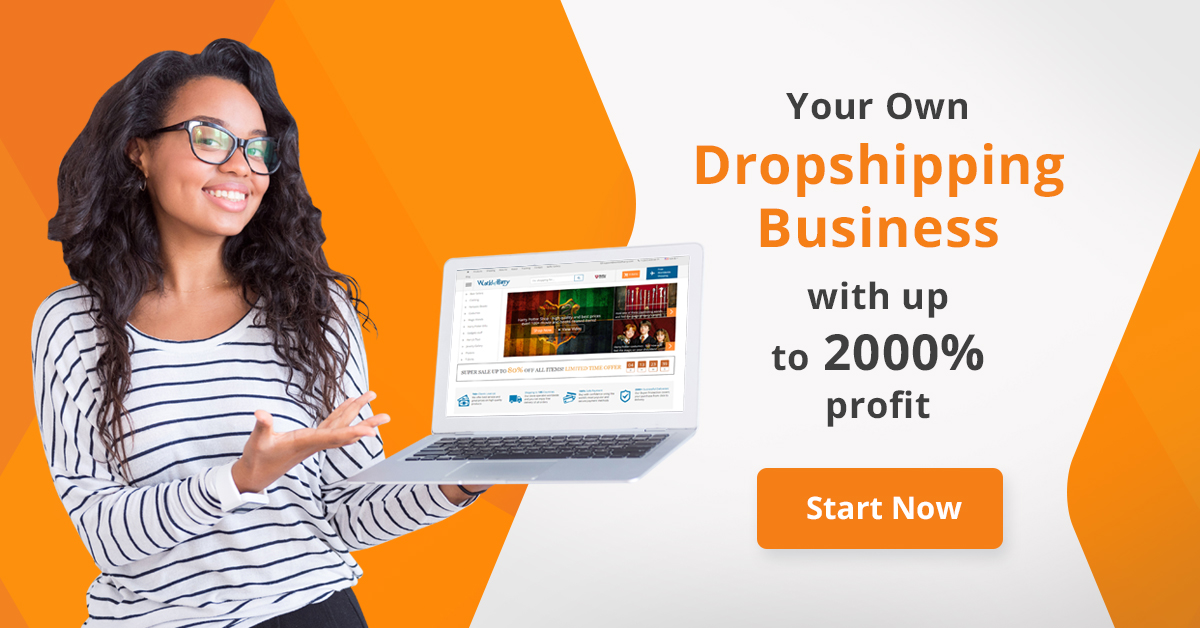 3. Create a dropshipping store with Aliexpress
This is the most common option and, if you start from scratch, the most complicated one, since you will need knowledge of WordPress, WooCommerce, and the whole part of SEO and online marketing.
But it is also the most profitable, so I recommend it.
If you don't have the skills to create your own dropshipping website using WordPress or Woocommerce you can always opt-in for a ready made premium dropshipping store. Will save you tons of hours of work!
🙋 Dropshipping Frequently Asked Questions
1- Can you make money with dropshipping in 2021?
Or, what is the same: is dropshipping profitable in 2021?
Yes, it is.
Following all the steps I have explained in this guide, dedicating time and some effort, you can generate benefits with this system.
2- Who is it recommended for?
Dropshipping is a good first step to understand the world of e-commerce and to learn how online commerce works.

It doesn't require investment or great knowledge, but the more you have of the latter, the better off you will be.

It's a perfect system for people who are just starting out and want to make money with an online store, but don't have much of a budget.

It is also an ideal system for people with great knowledge of Facebook Ads, Instagram or getting high volumes of traffic.
3- How much should I invest at the beginning?
Little or much, that depends on what your budget and strategy is.

It depends on many factors.

With a domain and a hosting you can start, but the more resources you invest (well invested), the more possibilities to increase sales and therefore profits.
4- Can I use different providers for the same e-commerce?
Yes, there is no rule against it.

Another thing is for you to get organized and not turn into your worst nightmare.

Remember that the same customer can buy different products in your store, and if they are from different dropshippers, they won't get them at the same time.

This sometimes happens even with Amazon; so it's not a big problem either, unless they are complementary products that need each other to work efficiently.

Unrealistic example to make it clear: a product that runs on special batteries and its special batteries.
5- Can I do dropshipping with Amazon FBA (Fulfillment by Amazon)?
No.

Many people tend to confuse it with dropshipping because you, as a retailer, would still not have your own store, but in the end, you are "renting" it out to a third party. You're really adding one more middleman to the chain: an Amazon logistics center.

This business model involves an advance purchase of products by you, or in other words, an initial outlay of money with the risk that the expected sales will not take place. And for this reason alone, it does not qualify as dropshipping.

Depending on the type of e-commerce you have in mind, you may be more or less interested in it than the dropshipping I'm talking about here today.

So much for the complete guide to dropshipping.

Do you think it's the best method to monetize your e-commerce? If so, don't waste your time. Get your act together, find a supplier, learn how to get online visibility, and set up your online store!